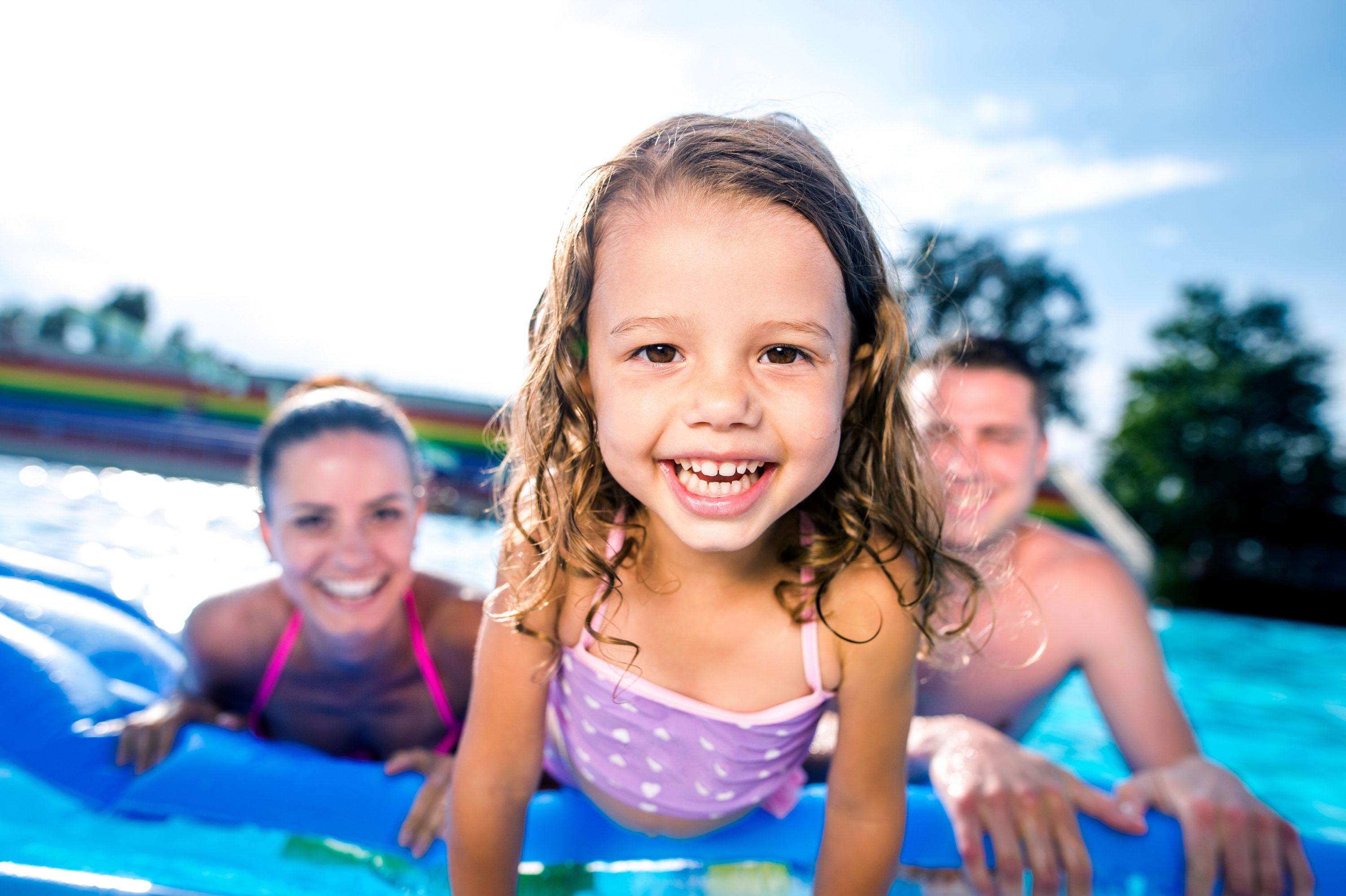 Best Activities for Families in Albufeira
March 2, 2023
Albufeira is a popular holiday destination in the Algarve with plenty of family activities.   There is an abundance of things to do for children, young people and the young at heart!  Here are just some of the best family activities in Albufeira.
Hit the Beach!
Albufeira has some of the most beautiful beaches in Portugal. Some are lined with bars, restaurants and ice cream stands while others are quieter and a little further away from the crowds.  It is always advisable to choose a beach with a lifeguard on duty, especially when you are visiting with children, and many of them do, particularly in the summer season. Watch out for the coloured flags which indicate the swimming conditions. A red and yellow flag confirms that the water is safe and that a lifeguard is on duty. Many beaches have also been awarded the coveted Blue Flag when they score highly on safety, water quality, facilities and environmental management. The beaches vary from small coves and beautiful rock formations to long stretches of soft sand and gentle surf.  Many of them have parking areas and excellent beach facilities and are renowned for clear waters and family friendly waves.
Here are some of the best beaches to visit in Albufeira for families:
Praia da Oura
There is plenty to love about this Blue Flag beach, especially when travelling with young children.  There are ice cream parlours, snack bars, affordable restaurants with simple menus for the fussiest eaters (!) and water sports facilities including a banana boat ride!  It is also very accessible with a lift and a tunnel leading directly to the beach which is particularly handy when you have a push chair and little ones in tow.
Praia da Gale
The west side of this beach is a lovely, long stretch of sand with gentle surf, making this a great choice for families with young children.  It is accessed easily without negotiating lots of steps and there is plenty of room to spread out and play games on the soft sand.  You can even ride the beach on horseback!  The east side of the beach is made up of interesting rock formations and is a great hit with children for exploring the rock pools.  There are toilet and shower facilities and sun beds to hire so parents can relax in comfort while the little ones play.
Praia de Sao Rafael
Very popular with families due to the sheer size of the beach – it stretches for 6 km and is sheltered by the enormous red cliffs.  You can rent kayaks and paddle boards and there are lifeguards during the busy season.  There are sun beds and umbrellas to hire, toilet and shower facilities, as well as lots of parking.
Discover some of the best beaches near Albufeira
Aqualand Park
Aqualand water park is a fun-filled family attraction. There are slides, wave pools, lazy rivers, and other water activities for the young and the young-at-heart.  One of the newest attractions here is the King Cobra which can be enjoyed solo or with a partner. It starts 25 meters above ground twisting you from side to side and down a large drop leading you directly into the head of the King Cobra in what promises to be an exhilarating ride!  For those that don't fancy the slides, there are lots of lawns and sun beds to relax and sunbathe while the adrenalin junkies hit the slides!
Boat Trips
Albufeira has several boat trip options but we highly recommend booking with our friends Wish & Fish who are based at Albufeira Marina.  You can go fishing, take a sunset cruise and explore the beautiful coastline, or have a whole day out at sea spotting dolphins along the way!  The friendly crew will show you all the hidden caves along the coast and find secluded bays that can only be reached from the sea.  Experience the revitalising feeling of dropping the anchor and jumping into the sapphire blue sea!  There are life jackets for all the family and top quality fishing rods for those who fancy catching their dinner!  This really is the best way to see the dramatic and beautiful coastline whilst getting away from the crowds.
One of our clients also recommended Eco Sun Charters for a fun day out on the water, saying "We stopped off the coast for a swim then a water taxi came to the boat to take us into the harbour where the captain had booked us lunch then a water taxi back to the boat to carry on with the trip. A very special day."
Albufeira Old Town
Once a quiet fishing village, Albufeira's old town is a charming area with narrow streets, white-washed buildings, and plenty of shops, restaurants and live entertainment in the busier months. Take a stroll with your family, grab a bite to eat, and soak up the atmosphere.  Live music will filter through the streets and there are lots of restaurants serving different cuisines, pleasing the self proclaimed foodies to the fussiest of eaters!  There are lots of places to purchase beach toys and souvenirs and, if you want to add a bit of culture to your trip, there is a small archaeology museum (Museu Municipal de Arqueologia) which houses artefacts from the prehistoric era to the 16th Century.  Admission is only €1.
Family Friendly Restaurants
Nearly all of the restaurants in this area are family friendly and children are as welcome as the adults. In more recent years the number of restaurants and eateries in the area has multiplied and now you will find everything from cafes serving a full English breakfast, Japanese inspired Sushi restaurants, Italian style pizzerias and of course, a plethora of family run Portuguese restaurants that proudly offer up their locally produced wines and tasty, traditional dishes.
Here are some of the best restaurants for families in Albufeira:
This is a family run restaurant with bundles of character and cheerful staff.  Claudio is in the kitchen cooking delicious food, while his wife takes good care of customers, occasionally assisted by their young son!  Everything is cooked fresh so they can please everyone and are very happy to discuss the menu and their wine list in detail.
The Cockerel
If you would prefer an English menu, The Cockerel is very popular with families, serving a full English breakfast, burgers, fish and chips – they even do a Sunday roast! Situated near to The Strip, it is in the middle of the action and has a very affordable menu.
O Farnel
Also located in the heart of the action, this is a popular steakhouse with rave reviews. It is a family run restaurant and offers a range of dishes including an excellent children's menu.  It is modest to look at and serves simple dishes with honest ingredients at affordable prices.
Families are warmly welcomed here.  They even have a small swimming pool in the garden for children to play in while the grown ups enjoy a glass or two!  The menu is deliciously Portuguese with some simpler dishes for those who are a little fussy!  There is an English version of the menu and all the staff are very friendly.
Explore some of the best restaurants in Albufeira
Go Karting
Albufeira Marina is a great place to go with families and one of the many attractions is Algarve Karting.  Located in the car park, is is an underground race track with electric race karts, designed to give you the ultimate driving experience in a fun, safe environment.  '400m of pure indoor tyre burning fun!'  This is perfect for avoiding the midday sun or simply to burn off some energy before bedtime.
Overall, Albufeira offers a huge variety of activities for families, catering to every age group, taste and budget. Having enjoyed many a holiday in this area our team are happy to make personal recommendations or can help to point you in the right direction.
We have so many family friendly villas in this area and we are always happy to talk things through to ensure that you make the perfect choice for your family.