Best Activities for Families in Vilamoura
July 24, 2023
Vilamoura, a lively coastal destination in the Algarve, is a treasure trove of family-friendly activities that ensure an unforgettable holiday for all. 
From thrilling water park adventures to scenic bike rides, fun boat tours, and engaging educational experiences, Vilamoura offers a diverse range of activities that cater to every interest and age group. 
Read on for some of the best activities for families in Vilamoura.
Visit a Beach
One of the most fun, affordable and easiest activities with little ones in tow is to take them to the beach – and there are plenty of sandy options to choose from in Vilamoura.
Enjoy an unforgettable beach day at Praia da Falésia or at Praia de Quarteira. Both beaches have a Blue Flag, translucent water and an extensive sand line where kids can play beach games, splash in the sea, or simply have fun without anyone being disturbed.
Check out our blog of the best beaches in Vilamoura.
Praia da Falésia
Hop on a Boat Tour
There's a magnificent coastline just waiting to be explored so why not hop on a boat tour? Explore mysterious caves, such as Benagil cave, and remote beaches of the Algarve which can only be accessed by boat. You may also see dolphins swimming! 
Benagil cave
One of our clients also recommended Eco Sun Charters for a fun day out on the water, saying "We stopped off the coast for a swim then a water taxi came to the boat to take us into the harbour where the captain had booked us lunch then a water taxi back to the boat to carry on with the trip. A very special day."
Visit Cerro da Vila

 
A visit to Cerro da Vila Museum and Archaeological Site is a remarkable educational experience for the whole family, allowing you to connect with history and appreciate the remarkable journey of humankind in Vilamoura over thousands of years.
Outside, in the archaeological site, visitors can stroll around the ruins of a Roman villa complex. Inside, visitors to the museum can also see evidence of the breadth of life in Vilamoura spanning 5,000 years, from the Bronze age, through the Roman period, into occupation by the Moors. 
Zoomarine Theme Park

 
A short drive from Vilamoura is Zoomarine, a theme park which combines a rich marine biodiversity with crazy rides that children are sure to love. As well as an aquarium, 4D cinema, water rides and the chance to swim with dolphins, there's a Butterfly Garden, the first of its kind in the Algarve, and Fantasy Island, which is perfect for little ones.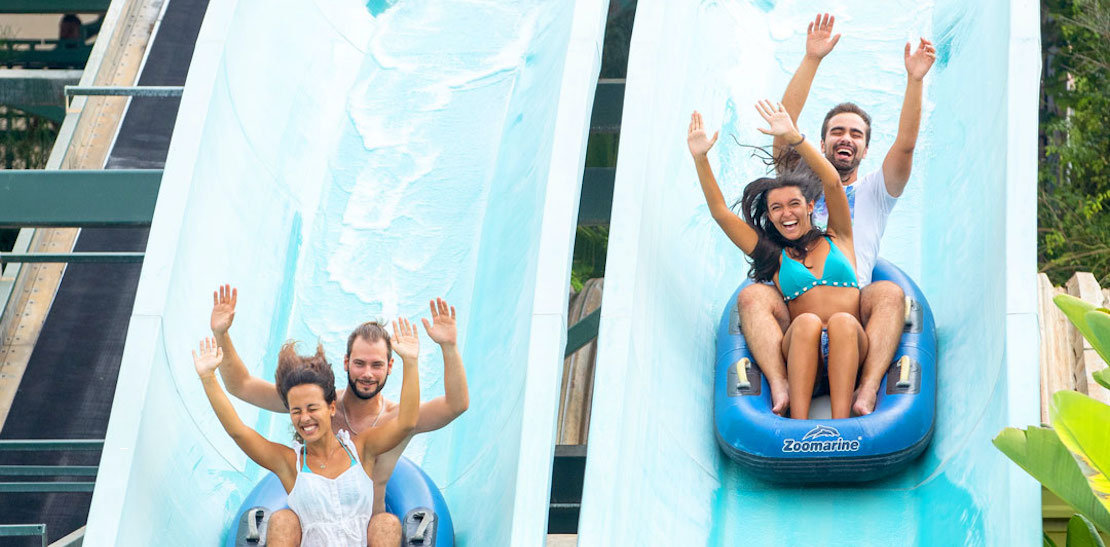 Photo Credit: Zoomarine Facebook
Learn to Paddle Board
The beaches of Vilamoura are perfect for stand-up paddle (SUP). It's a fairly easy water activity that doesn't require any experience, and there are a number of places offering equipment, lessons and tours from Vilamoura marina and also from Falésia beach.
 Go Kayaking
Another easy water sport that can be enjoyed by the whole family is kayaking. It's a great way to explore the coastline and sea caves. There are several companies offering tours and rentals in the area including from Vilamoura marina, as well as from the nearby Ria Formosa Natural Park which offers calm waters and beautiful flora and fauna. 
Ria Formosa Natural Park
Water Sports
For the adrenaline-seekers, there are plenty of exhilarating watersports available. Jet-skiing, parasailing, wind-surfing… whatever you fancy, the beaches and marina in Vilamoura have it all catered for. 
Go Golfing
Home to six courses, including the famous Old Course where the Portuguese Masters championship has been held, Vilamoura is a golf heaven and the perfect place to take the family golfing on a fun outdoor activity. For an option that's suitable for the whole family, why not visit the Family Golf Park which is located within a few minutes walk of Vilamoura marina and offers two great crazy golf courses on site.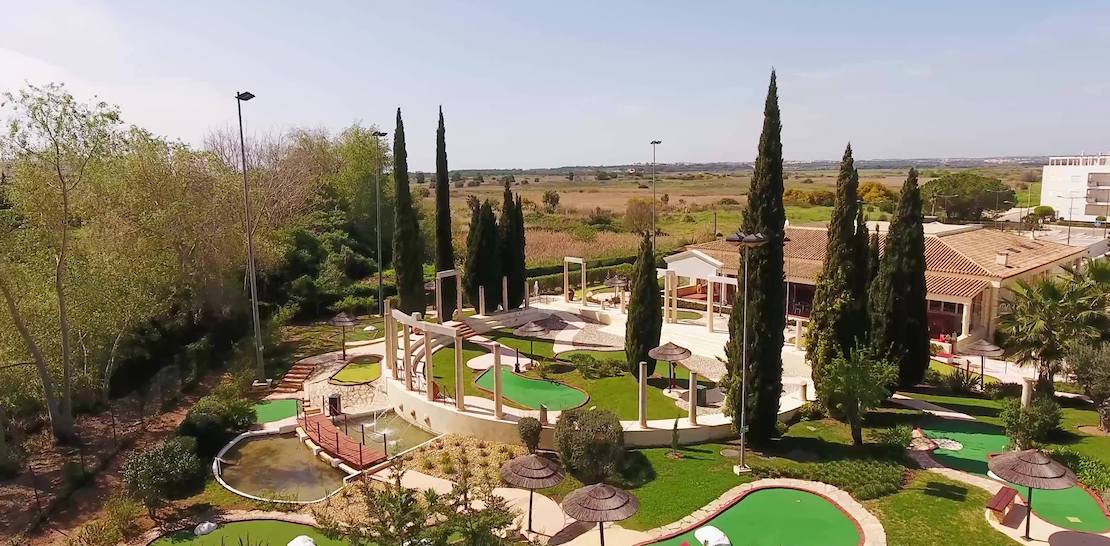 Photo Credit: Family Golf Park Facebook
Enjoy a Family Bike Ride
Vilamoura is well-known for its extensive cycling paths that wind through beautiful landscapes and tranquil surroundings. Rent bikes for the whole family and embark on a leisurely bike ride along the scenic routes. From exploring the natural beauty of the Ria Formosa Nature Park to pedalling through picturesque coastal villages, a family bike ride is an excellent way to enjoy the outdoors and spend quality time together.
There is a guided tour between Vilamoura and Quarteira with a duration of about 3 hours which is a great way to get to know the area. There is also another tour through the Algarve countryside that will allow you to get to know an Algarve that is different from the coast to which you are accustomed.
Vilamoura Marina
Vilamoura Marina is not just an awe-inspiring waterfront; it is a vibrant hub of family-oriented activities that guarantee a memorable experience for all. As the largest marina in Portugal, boasting over 1,000 berths, it serves as the beating heart of entertainment, attracting not only boating enthusiasts but also those on holiday in the area.
Beyond the enchanting boats and yachts, Vilamoura Marina offers an array of activities catering to families. Indulge in a leisurely meal at one of the waterfront restaurants, savouring delicious local cuisine while relishing the panoramic views of the marina.
Additionally, the marina serves as a departure point for various boat tours that allow families to embark on exciting adventures. Whether you choose a dolphin-watching excursion, a fishing trip, or a sailing journey to explore the Algarve's hidden gems, there's no shortage of captivating experiences awaiting you.
Go Karting in Amancil
Enjoy a day at Karting Almancil, a unique go-kart park in Algarve that is open all year round. The remarkable main track spans an impressive 760 metres and faithfully replicates the former Brazilian Formula One race track, Jacarepagua. It provides various options for racing enthusiasts, ranging from 200cc to 390cc karts for seniors. Additionally, there is a dedicated junior track and Mini F1 karts cater to the youngest drivers.
Karting Almancil offers more than just kart racing excitement. Adventure-seekers can enjoy bungee trampolines, embark on thrilling buggy safaris, test their skills on a rodeo-inspired mechanical bull, or partake in motor boating on their own miniature lake, exclusively designed for children aged three to six. 
Challenge your family members to a friendly race and see who emerges as the speed champion of the day!
The lovely Casa Katrina and Villa Ludo are located nearby.
Photo Credit: Karting Amancil Facebook
Play Tennis
If you're looking for some friendly competition and active family fun, Vilamoura Tennis & Padel Academy is the place to be. This state-of-the-art sports facility offers an array of amenities to cater to all interests and skill levels.
With nine full-size tennis courts and four mini courts, Vilamoura Tennis & Padel Academy provides ample space for the whole family to practise and enjoy the game. Whether you're a seasoned player or a beginner, you can engage in friendly matches or take lessons together as a family, guided by expert coaches who are dedicated to helping you improve your skills.
But Vilamoura Tennis & Padel Academy doesn't stop at tennis. For those who prefer a different racket sport, there are also two padel courts available. Padel combines elements of tennis and squash, providing a unique and exciting experience for players of all ages. Additionally, there's even a mini football pitch for kids under 12, ensuring that everyone in the family can find a sport to enjoy.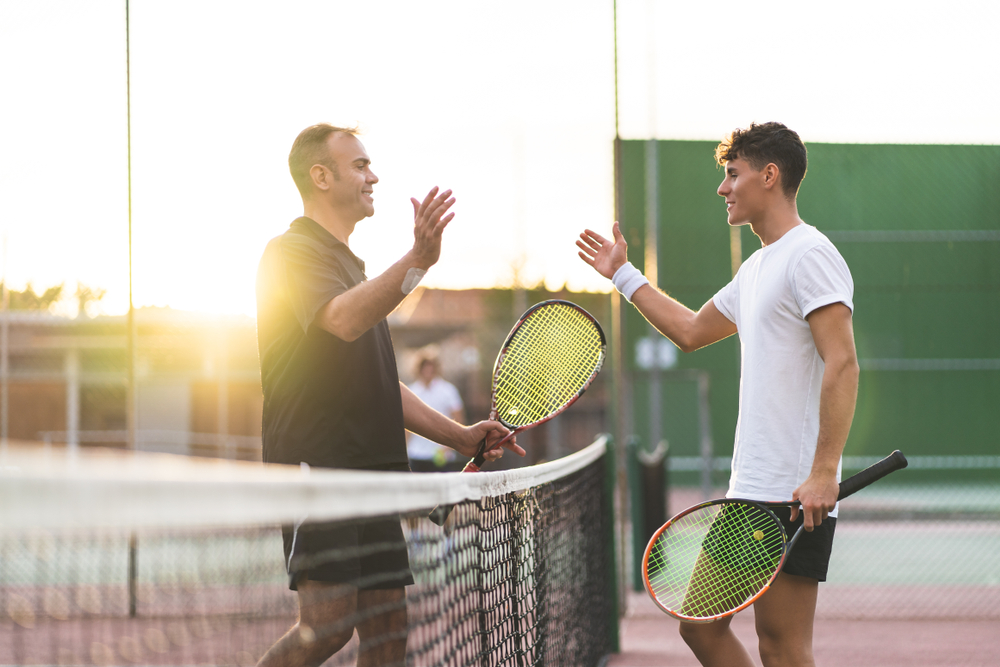 Visit a Waterpark
Water lovers will have a blast at AquaShow Park, a sprawling water park widely regarded as the finest in the region, making it one of the best activities for families in Vilamoura. Prepare for an action-packed day as the park seamlessly blends water-based attractions with thrilling amusement park elements, such as slides, pools, waves, exotic bird exhibits, and a top-notch roller coaster. It also boasts Europe's tallest free fall slide and Portugal's largest wave pool. 
Older kids will relish the adrenaline-fueled slides, rides, and roller coaster, while younger ones can joyfully drift along the Lazy River or explore their very own mini water park. Aqualand is thoughtfully designed to cater to their needs. And For those seeking exhilaration on dry land, the Top Swing, Air Race, Aqua Fly, and Water Coaster are sure to deliver thrills. Engaging shows featuring parrots, reptiles, and birds of prey ensure entertainment for the entire family.
Photo Credit: AquaShow Park Facebook
We have an impressive selection of luxury villas in the Vilamoura area. We are here to make sure you select a property that best suits your requirements, ensuring the perfect holiday is had by all.
Discover more about Vilamoura in our latest blogs:
Disclaimer: We are not affiliated with any of these businesses. This information is gathered from client and staff experiences and feedback and we are happy to share as a helpful guide. We do not vouch for or recommend any service or establishment.