Best Beaches Close To Vale do Lobo
August 7, 2023
Situated on the sun-kissed coastline of the Algarve region in Portugal, Vale do Lobo beckons travellers with a world of alluring delights – from soft golden sands to world-famous golf courses, and the awe-inspiring beauty of nature. 
As one of the esteemed corners of the Golden Triangle, alongside Quinta do Lago and Vilamoura, Vale do Lobo takes its place among the Algarve's most luxurious destinations and is enveloped by some of the finest beaches in Europe. 
Each beach close to Vale do Lobo boasts pristine shores, captivating backdrops, and turquoise waters, catering to all preferences – from tranquil settings where the whole family can unwind, to livelier spots near beach bars and water sport rentals for those seeking a dash of adventure. 
Let's dive into some of the best beaches close to Vale do Lobo. 
Praia de Vale do Lobo
Starting our beach journey right at the resort's doorstep, Praia de Vale do Lobo is a glorious expanse of golden sand stretching for kilometres along the azure coastline and framed by the renowned Algarve red cliffs. It's part of an enormous stretch of sand that runs from Faro in the east to Quarteira in the west.  
Backed by two of the coast's finest golf courses, the Royal Golf Course and the Ocean Golf Course, this Blue Flag-certified beach offers everything you need for a perfect day in the sun. Relax on a comfortable sun lounger under a colourful parasol, take a leisurely stroll along the shoreline, venture into the inviting waters for a refreshing swim or indulge in water sports, from paddleboarding to jet skiing. 
The beach can get crowded in summer, but there's enough room for everyone to enjoy. The beach is also backed by the main square (known as the Praca), an area dedicated to fantastic restaurants, vibrant bars, and nightly entertainment.  
Praia do Garrão
A short distance away, you'll find the stunning Praia do Garrão, a beach that epitomises the Algarve's natural beauty. 
This picturesque beach stretches between these Vale do Lobo and Quinta do Lago resorts and features private areas dotted with sun-loungers, as well as zones open to the general public and some of the finest beachside restaurants in the area, Maria's and Julia's. 
Accessible from Vale do Lobo via scenic boardwalks, this beach boasts pristine dunes and crystal-clear waters that glisten under the sun. 
Nestled between two rocky outcrops, it offers a sense of seclusion, making it ideal for those seeking a quieter and more intimate beach experience. 
For a villa rental near this beach, we recommend the lovely Casa Katrina.
Praia do Ancão
Praia do Ancão is an enchanting beach just a stone's throw away from Vale do Lobo. Known for its untouched beauty and gentle waves, it's a haven for beachcombers and nature lovers. Take a leisurely stroll along the shoreline, and you might discover unique seashells or spot migratory birds flying overhead. With its natural allure and unspoiled surroundings, Praia do Ancão offers a serene escape from the hustle and bustle of daily life.
This beach is the most sought-after and visited beach in the area of ​​the Golden Triangle. The vast amount of sand is much coveted by families as there is plenty of space for children to play football or volleyball without anyone being bothered.
The lovely Villa Matheus and Martina villa rentals are both nearby. 
Praia da Quinta do Lago
Venture a bit further to Quinta do Lago resort to discover Praia da Quinta do Lago, where nature and luxury coexist harmoniously. Backed by a picturesque pine forest and offering fantastic views of the Ria Formosa Natural Park, this beach exudes a sense of serenity. 
The beach itself is rarely very crowded, with plenty of space for everyone and, during the summer months, there is a lifeguard stationed here. Facilities are good with water sports such as jet skiing, stand-up paddle-board hire, and a banana boat ride. All of this can be arranged through Artur's Watersports Academy, which also organises activities on the Quinta do Lago lake, such as sailing, kayaking, windsurfing, and even an inflatable, floating assault course! 
The sea is safe to swim in as the waters here are calm and gentle, and the beach has been awarded the EU Blue Flag because of the high standards it maintains regarding water quality, safety, and environmental management. 
The gorgeous Villa Sul and Melody villa rentals are located near this Quinta do Lago beach. 
Praia da Falésia
A little further away from Vale do Lobo, north towards Vilamoura, is Praia da Falésia, undoubtedly one of the most iconic and picturesque beaches in the region. It's even been voted as one of the best beaches in the world several times over the years.  
Praia da Falésia, meaning "beach of cliffs", is known for its red sandstone cliffs and golden sands stretching as far as the eye can see. This beach is one of the most popular with families because the sand banks slope gently leaving lots of shallow water perfect to paddle in. There are lifeguards during the summer season and there are plenty of restaurants and shops nearby.
There is a coastal path great for bike rides, which leads right out from Falésia beach and winds through tiny villages along the way. Watersports are also available nearby with everything from scuba diving to surf kiting available.
Praia de Quarteira
Around a 15-minute drive north of Vale do Lobo is Praia de Quarteira, a popular beach destination offering a vibrant and lively atmosphere. Stretching along the Quarteira promenade, this beach features golden sands and clear waters. It's a favourite spot for both locals and tourists, offering various beach bars, restaurants, and shops along the waterfront. A pedestrian zone runs the entire length of the beach, ideal for pushchairs, bikes and wheelchairs, making it hugely popular with families.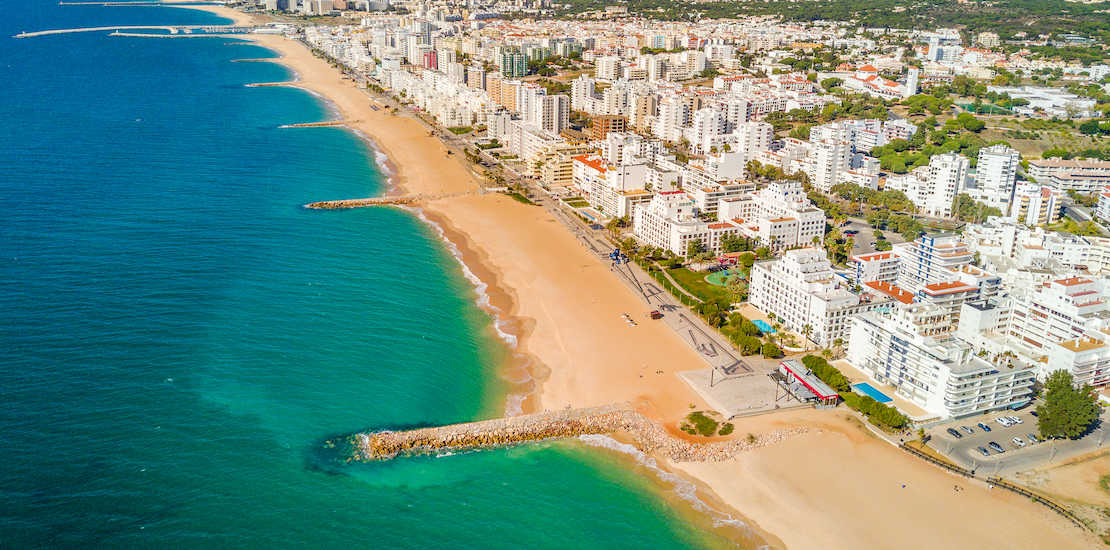 We have a variety of villas in Vale do Lobo to suit all budgets. Just let us know your requirements and we will help you find your dream villa rental in Portugal.
Discover more about Vale do Lobo in our latest blogs: