Best Beaches Near Salema
October 26, 2023
The Algarve region, with its stunning beaches, golden sands, and crystal-clear waters, is a beach lover's paradise. Salema is no exception. This picturesque fishing village is surrounded by a treasure trove of beautiful beaches that cater to every beachgoer's desires. Here, we are going to take you on a tour of the best beaches near Salema, so you can plan your perfect beach day in this enchanting corner of Portugal.
Salema Beach
Our journey begins right where you're staying – Salema Beach. This idyllic shoreline is the heart and soul of the village. You'll be greeted by a kilometre-long stretch of soft, golden sands and calm, azure-blue waters. Salema Beach is perfect for swimming, sunbathing, and water sports – plus, you might even discover some dinosaur footprints at the far end of the beach! With its Blue Flag certification, it guarantees exceptional water quality and safety. Enjoy your time under the sun, relax on a rented sun lounger, and grab a refreshing drink at the nearby beachfront cafes.

Praia da Ingrina
Just a short drive from Salema lies Praia da Ingrina, a true hidden gem. This small, secluded beach is nestled between rocky cliffs, providing a more intimate atmosphere. The emerald waters are ideal for snorkelling and exploring the vibrant marine life beneath the surface. There's a beachfront restaurant, where you can savour fresh seafood while enjoying the serene views.
Praia do Zavial
If you're a surfing enthusiast, Praia do Zavial is your paradise. Located a little further east of Salema, this beach boasts consistent waves that attract surfers of all levels as well as a beachside restaurant to refuel after an action-packed day in the water. The area surrounding the beach is untouched, showcasing remarkable natural beauty, with a small eucalyptus forest behind it.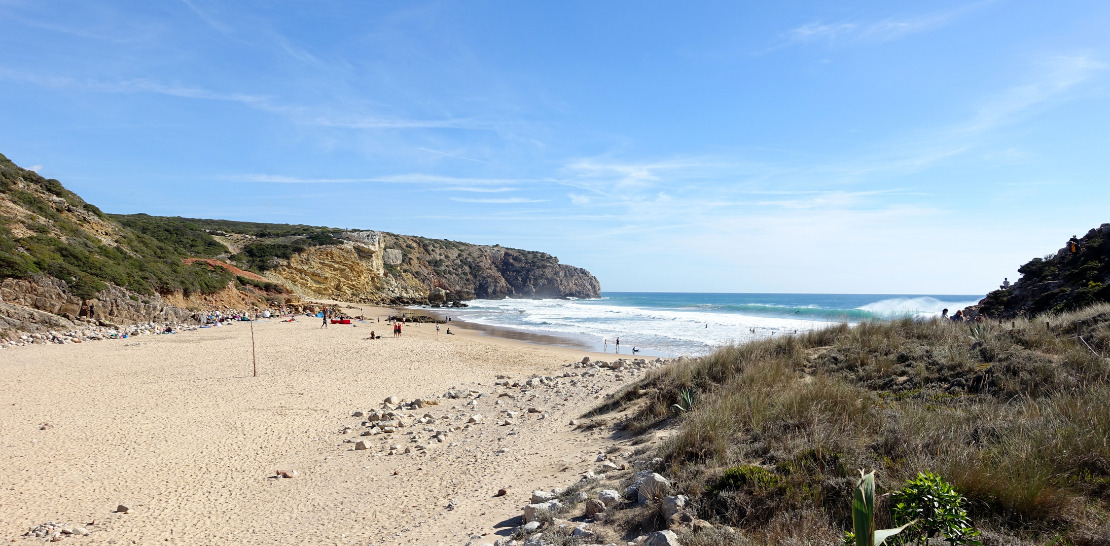 Praia de Burgau
Head west from Salema to discover Praia de Burgau, a charming and picturesque fishing village beach. Here, you'll find colourful fishing boats, sun-kissed cliffs, and a relaxed ambience. It's one of the best beaches near Salema for families, and there are plenty of cafes and restaurants to choose from when it's time for refreshments. The sandy cove is flanked by cliffs, providing both shade and stunning scenery. Take a leisurely walk through the village's narrow streets, and don't forget to try the local seafood at one of the delightful seaside restaurants. We have two lovely holiday villas, Casa Cleo and Dona Maria, conveniently located nearby.
Praia da Luz
A bit further east, Praia da Luz offers a family-friendly environment with its wide sandy shore and calm waters. This beautiful crescent-shaped stretch of golden sand, which has received the coveted European Blue Flag, is the heart of the village and offers something for everyone. Whether you're into swimming, building sandcastles, or just soaking up the sun, this beach has you covered. At the far end of the beach sits the famous Black Rock, formed approximately 150 million years ago by volcanic lava from the Monchique mountains. The palm-fringed promenade is lined with cafes, making it a great destination for a leisurely family day out.
Praia do Castelejo
For those in the know, Praia do Castelejo is a hidden secret, tucked away amidst dramatic cliffs and vast dunes. Located on the western coastline, it's a paradise for surfers, with its powerful waves and untouched natural beauty. Even if you're not a surfer, the scenery here is breathtaking and worth adding to your list of best beaches near Salema to visit.
Praia do Camilo
Praia do Camilo, located in Lagos, boasts a small but incredibly scenic beach. Accessible via a wooden staircase, it adds an element of adventure to your visit. Once you descend, you'll be greeted by a pretty cove with crystal-clear waters, intriguing rock formations, and a sense of isolation that makes it a perfect escape and one of the best beaches near Salema to visit. Don't miss the delightful fish restaurant, O Camilo, perched atop the cliffs. The rock formations of the Ponte da Piedade protect this tiny beach from southwest waves, resulting in extremely calm water.
Praia do Martinhal
A short 20-minute drive west of Salema is Praia do Martinhal. Known for its wide, sandy shore and relatively sheltered waters, this is an excellent choice for those who prefer calmer seas. Small limestone islets just offshore are popular with snorkelers and divers, offering excellent water visibility. Further out, windsurfers and paddle boarders navigate the waters with ease. 
Praia das Furnas
Nestled in the scenic town of Sagres, Praia das Furnas is a captivating sandy retreat renowned for its serene atmosphere. This beach holds a unique charm – it's a designated nudist beach and also pet-friendly. It holds a Blue Flag award, a testament to the crystal-clear waters adorned with vivid blue hues. Now, Praia das Furnas may be relatively small in size, but it's big on natural beauty. The name Praia das Furnas is derived from the caves that pepper the adjacent cliffs, aptly referred to as furnas. These remarkable caves, formed through the course of erosion, can be found on the beach's eastern side and offer the valuable gift of natural shade – a rare find in this sun-soaked paradise. It's important to note that there are no beach facilities here, so it's advisable to bring along your own refreshments to complete your beach experience.
Want more incredible beaches?
The Algarve is home to some of the most beautiful beaches in the world and is regularly voted as the best beach destination in Europe. A great way to discover as many Algarve beaches as possible in one go is to hop on an Algarve boat trip, with boat trips available from Vilamoura marina, Albufeira marina, Portimão and from Lagos marina all year round.
We have a great selection of villas in and around Salema. Get in touch today and let us help create your dream villa holiday. 
Follow us on Instagram and Facebook for the latest holiday tips, villa offers, destination guides, and more. 
Discover more about Salema in our latest blogs:  
Disclaimer: We are not affiliated with any of the businesses mentioned in our blogs. This information is gathered from client and staff experiences and feedback and we are happy to share as a helpful guide. We do not vouch for or recommend any service or establishment.