Best Restaurants in Albufeira
March 3, 2023
We love holidays here at The Villa Agency but we also LOVE food!  We regularly visit the properties we offer so we can give the best guidance to our clients when choosing a villa holiday, but we also take time to get to know the surrounding areas including the restaurants on offer.  Oh, it's a tough job but someone's got to do it! Travel is as much about the food journey as it is about exploring new areas and we are always looking for new and exciting places to visit – that's why we can't wait to share our best restaurants in Albufeira.
Albufeira is home to thousands of great bars and restaurants serving both local and international cuisines. Whether you are looking for a romantic meal for two, a fine dining treat for a special occasion or a family friendly experience, there are plenty of options to choose from. Many of the larger beaches have wooden restaurants built on the sand with wide, open-air terraces and ocean views while the streets behind them are filled with restaurants, both big and small, catering to all tastes.
The cobbled and charming streets of Albufeira Old Town are a great place to explore and packed full of independent eateries – the main square is a good place to start.  There is often live music and it is a great spot to watch the world go by and soak up the atmosphere.
Areias de Sao Joao (known locally as The Strip) has as many bars and clubs as there are restaurants, including some international, well-known, fast food outlets.  It can get busy in this area and it is popular with young people so might not be the best place for a romantic meal for two but it is certainly a good choice for affordable options before hitting the bars!
Montechoro, located at the north end of The Strip, has a quieter atmosphere for those wanting to escape the crowds.  This is still a great place to people watch and experience the bustling vibe but this is generally more family orientated than the lower part of The Strip.
Praia da Oura is very family friendly and popular with young people.  There is a good selection of both affordable and slightly more fancy restaurants and is less hectic than The Strip but still a great atmosphere.
The traditional fishing village of Olhos de Agua is more low-key with a relaxed vibe and some fantastic restaurant offerings, many of them serving fresh fish and seafood. There are plenty of temptations here and something for every pocket and taste.
There are some wonderful restaurants scattered around the Gale beach area which is to the west of Albufeira town. Here you will find simple well priced venues and some fine-dining restaurants too.
Here are a few of our favourite restaurants in Albufeira:
Evaristo Restaurant
Evaristo Restaurant is set on the sands of Evaristo beach overlooking the sea. Unusually, there is no official menu here as the food on offer is very simply the catch of the day. Specialising in fish and seafood straight from the ocean and grilled to perfection, this is a very special place to enjoy delicious food and local wines overlooking the fabulous rock formations and sparkling water.
Price: £££
Cuisine:  Portuguese/Mediterranean/European/Fish/Seafood
Family Friendly: Yes
Address: Praia do Evaristo – Sesmarias,Apartado 102, 8200-903 Albufeira
Photo Credit: Evaristo
Vila Joya
Vila Joya was the first restaurant in Portugal to be awarded 2 Michelin stars and has retained them for over two decades. Chef, Dieter Koschina, creates a new menu every day and they have recently introduced a signature, fixed price, four course, menu available for lunch or dinner.  Perched above Praia da Gale this magical venue has a fine dining restaurant as well as the more bohemian beach shack experience. There's a real sense of theatre and opulence here and it is the perfect choice for a special occasion. We strongly recommend booking your table weeks ahead of your holiday to avoid disappointment. Our lovely Sea Breeze is conveniently located nearby.
Price: ££££
Cuisine:  Fine Dining/Mediterranean/European
Family Friendly: No
Address: Estrada da Galé, 8200-424 Guia, Portugal
Photo Credit: Vila Joya
Sao Domingos
The Villa Agency team have been dining at Restaurante Sao Domingos in Gale since it first opened in 1995 and it remains a firm favourite, which is why its a must on our list of best restaurants in Albufeira. Here they specialise in locally produced and seasonal food and the flavours and aromas of Portuguese and Mediterranean cuisine. You will receive the warmest of welcomes served alongside a well priced, delicious menu and great wine list.  We highly recommend the clams 'Bulhao Pato' style  with garlic and coriander and the Tiger king prawns with garlic and piri-piri – the best we have tasted in Portugal! Conveniently located just down the road from our lovely Villa Parra.
Price: ££-£££
Cuisine:  Seafood/Mediterranean/European/Portuguese
Family Friendly: Yes
Address: Estr. de Vale Rabelho, 8200-428 Guia, Portugal
Photo Credit: Sao Domingos Restaurant
Kozinho do Claudio's
We discovered Kozinha do Claudio's restaurant more recently when staying in Vale de Parra. Their meat, fish and vegetarian dishes are passionately prepared by Claudio himself and his lovely wife will help you navigate the local wine list to ensure the best pairing with your food order.  One of our most loved villas is just up the road from this restaurant – Escola Velha – and staff are always particularly happy to serve guests staying here!  We chose blackened pork with glazed pineapple and beef steak with melted goats cheese.  Both served with hand cut chips and vegetables.  It was divine.
Price: ££-£££
Cuisine:  Portuguese/Mediterranean/European
Family Friendly: Yes
Address: 558 EM526, 8200-427 Guia, Portugal
Photo Credit: Kozinha do Claudio's
Restaurant Ramires
You simply cannot visit the Algarve without going to the chicken piri-piri capital in Guia, Albufeira!  Chicken piri-piri, known locally as Franguinho a Guia, is spatchcocked chicken, marinated in a combination of garlic, chilli, oil and lemon with some secret ingredients which just add to its delicious appeal!  It is then barbecued and usually served with fries or rice and salad.  This Portuguese delicacy is served in many restaurants in the Algarve but Ramires is arguably the expert in the field, having specialised in serving this famous dish for over 50 years!  The restaurant is charming with Portuguese tiles and simple furnishings, focusing on the star of the show – the food.  Inexpensive and finger-licking good, this is a must if you are in the area and will please even the most fussiest of eaters.
Price: £
Cuisine:  Portuguese/European/Barbecue
Family Friendly: Yes
Address: R. 25 de Abril 14, 8200-433 Guia, Portugal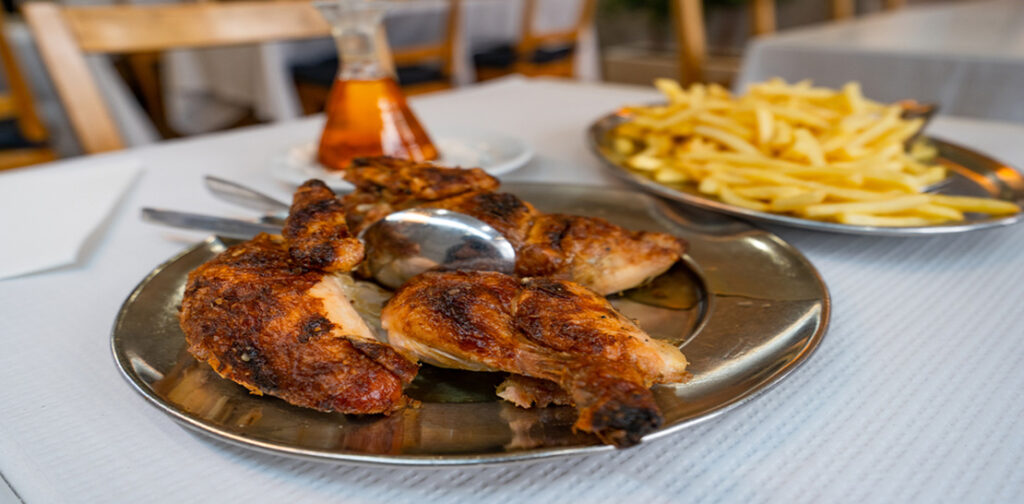 The Cockerel
If you fancy some English cuisine, you can't go far wrong at The Cockerel, near The Strip in Albufeira.  This restaurant is extremely popular with families and they serve all things English including a Full English Breakfast, Fish and Chips, Steaks, Pies, Ribs and Scampi. They even serve a traditional roast dinner on Sundays!  They are rated highly on some of the top review platforms with many visitors commenting on the delicious food and friendly staff. Our lovely Villa Alessandra and Villa da Mare are not too far away.
Price: ££
Cuisine:  English
Family Friendly: Yes
Address:

Rua Alexandre Herculano 29, Albufeira 8200-271 Portugal
Quinta da Saudade Restaurant
Blending harmoniously with the attractive, traditionally painted villas in the development, the Quinta da Saudade Restaurant has been established for more than 50 years. It has a lovely, friendly ambiance and nowadays it is run by Joselia and her son. There is an attractive bar where you can enjoy a cocktail while choosing your food – the Caipirinhas are delicious. The menu is traditional with a twist, we recommend the fish pot which has all sorts of delicious fish and seafood. There is a good selection of fresh fish and some yummy desserts along with vegetarian and vegan options. Some of our villa clients have recommended the prawns in garlic, baked camembert, prawn curry, and Eton mess for dessert. They are also attentive to dietary requirements. We recommend booking in advance.
Price £££
Cuisine: European/Portuguese
Family Friendly: Yes
Address: 8200-423 Guia, Portugal

Photo Credit: Quinta da Saudade Facebook
Restaurante Praia da Gale
In a wonderful position overlooking Gale Beach, Restaurante Praia da Gale has all manner of delicious fish and seafood. The clams are amazing as is the Bacalau com Batatas (oven baked cod with potatoes). At lunchtime we recommend you accompany your meal with a bottle of Muralhas Vinho Verde whilst enjoying the stunning views from either the terrace or the glass fronted restaurant.
Price £££
Cuisine: Seafood/Mediterranean
Family Friendly: Yes
Address: Estrada da Galé, 8200-416 Albufeira
O Farnel
Located in the heart of the action, O Farnel is a popular steakhouse, which receives rave reviews.  It is family run and offers a good children's menu to keep everyone happy!  It might not look like much from the outside but customers are usually wowed by the good quality steaks and reasonable menu.
Price: ££
Cuisine:  Steakhouse/European/Portuguese
Family Friendly: Yes
Address: Rua Almeida Garrett, Albufeira 8200-272 Portugal
We have a huge variety of villas in Albufeira and we can often suggest some restaurants nearby so just chat to us about your requirements and we can help arrange all aspects of your Albufeira holiday.
Discover more about Albufeira in our latest blogs:
Disclaimer: We are not affiliated with any of these businesses. This information is gathered from client and staff experiences and feedback and we are happy to share as a helpful guide. We do not vouch for or recommend any service or establishment.