Best Things To Do in Lagos, Portugal
September 19, 2023
Lagos is a captivating coastal town in Portugal's Algarve region that beckons travellers with a plethora of exciting experiences and unforgettable adventures. If you're wondering about the best things to do in Lagos, you've come to the right place.
From its rich historical heritage to its stunning natural beauty, Lagos offers a dynamic blend of culture, adventure, and relaxation. Whether you're an avid explorer, a water sports enthusiast, a history buff, or a foodie, this charming town has something to offer every member of the family.
In this blog, we'll take you on a journey through the best things to do in Lagos, uncovering its hidden gems, must-visit landmarks, and exciting outdoor activities. 
Hike from Praia da Luz to Ponta da Piedade
If you're seeking adventure and stunning vistas, the 13-kilometre hike from Praia da Luz to Lagos, passing through Ponta da Piedade, is an ideal choice. This hike marks the final stretch of the Fisherman's Trail, a 263-kilometre coastal route that commences in Porto Covo. The trail begins at Praia da Luz, where you'll ascend steep inclines offering alluring views of the Atlantic, the Algarve coastline, and the charming village of Luz. Follow the blue-and-green way markers along the clifftops, with a stop at Praia do Porto de Mós, Lagos's second-largest beach, before reaching Ponta da Piedade after approximately two hours of walking.
Learn to Surf
Lagos boasts three fantastic surf beaches: Praia da Luz, offering beach, point, and reef breaks; Praia do Porto de Mós, featuring beach and reef breaks; and Meia Praia, the nearest to the town and ideal for beach breaks. Whether you're a novice or a seasoned surfer, Lagos has an array of surf academies offering gear rental, group and private lessons, and immersive surf-focused vacations. Surfing is undoubtedly one of the best things to do in Lagos, Portugal, allowing you to ride the Algarve's famous waves.
Take a Boat or Kayak to Ponta da Piedade
The mesmerising rock formations of Ponta da Piedade are some of the most iconic sights in Lagos. With striking caves and grottos accessible only by water, Ponta da Piedade is a must-see attraction. While you can hike to the Ponta da Piedade scenic viewpoint from land to admire the unique formations, don't miss the opportunity to take a boat trip or kayak excursion to fully immerse yourself in this natural wonder. During a 75-minute boat trip, you'll sail along the breathtaking coastline, passing several Lagos beaches and reaching the spectacular rock formations of Ponta da Piedade. You'll sail through fascinating sea caves, explore hidden grottoes with crystal-clear water, and marvel at incredible sandstone cliffs. Opt for a kayak adventure to access caves and grottoes that boats can't reach, with free time for swimming and relaxation on tranquil beaches.
Wander around the Old Town
Lagos' Old Town is a treasure trove of history and charm. Featuring cobblestone streets with intricate patterns, whitewashed and tiled houses, museums, picturesque churches, lively squares, and a myriad of restaurants, stores, bars, and pubs, the Old Town serves as the heart of the city. There are countless things to do in Lagos Old Town, including sightseeing and taking a walking tour. Don't miss the chance to visit the Museu Municipal Dr. José Formosinho and Lagos Castle to explore the remains of ancient city walls.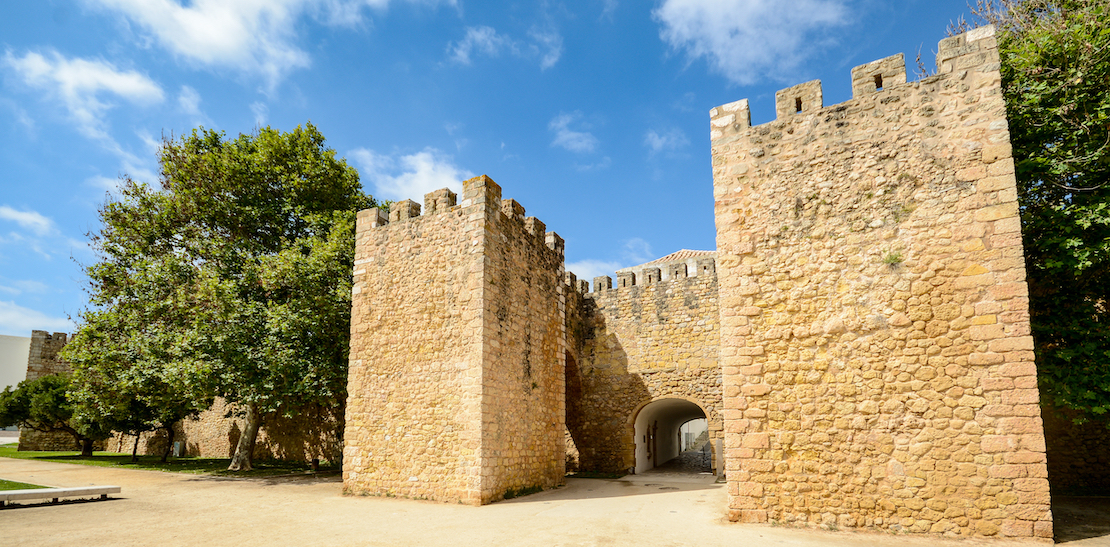 Visit Praia do Camilo
Among the array of Lagos beaches, Praia do Camilo stands out as a true gem. This intimate beach is nestled amidst impressive limestone rocks, with crystalline green-blue waters and amber sands. To reach this picturesque haven, you'll descend a long wooden staircase that adds to the sense of adventure and exclusivity. Praia do Camilo is perfect for those seeking a tranquil and scenic beach experience, with its dramatic cliffs forming a dramatic backdrop.
Discover more about the best beaches in Lagos in our dedicated blog.
Enjoy the Marina de Lagos
As you amble along the marina, take in the splendid sight of luxury yachts and sailboats gently swaying in the breeze, their sleek forms glistening in the sun. This pretty harbour offers a captivating glimpse into the world of maritime luxury. It's a perfect place for boat enthusiasts and those who appreciate the finer things in life. However, the Marina de Lagos isn't just about the boats; it's also a hub of culinary delights. You'll discover an array of waterfront restaurants and cafes that beckon with delectable aromas and enticing menus. Whether you're in the mood for fresh seafood, traditional Portuguese dishes, or international cuisine, you'll find it here. Sit down at an outdoor table, and as you savour your meal, bask in the tranquil ambiance of the marina. 
Explore the Forte da Ponta da Bandeira
Enjoy a captivating journey through history as you explore the Forte da Ponta da Bandeira, an emblematic fortress strategically perched at the entrance of Lagos' bustling harbour. This well-preserved bastion, dating back to a bygone era, immerses visitors in the rich maritime heritage of the town. Wander through the fortress's labyrinthine rooms, where echoes of the past whisper tales of ancient battles and maritime conquests. Ascend to the towering ramparts, where you'll be greeted by incredible panoramic views that stretch as far as the eye can see. 
Visit Igreja de Santo Antônio
For a taste of Lagos' rich history and culture, you'll want to visit Igreja de Santo Antônio. Constructed in 1707 and later rebuilt after the great earthquake of 1755, this baroque-style church is a visual masterpiece. Its single nave boasts a vaulted ceiling adorned with intricately drawn paintings, while two bell towers of differing heights grace its exterior. Inside, you'll find lower walls adorned with traditional blue and white azulejos, and above these tiles, a beautiful display of carved gold-plated woodwork, making it one of the most remarkable churches in Portugal.
Try the Algarvian cuisine
When exploring the best things to do in Lagos, don't forget to savour the local cuisine. Algarve's gastronomy is a delightful blend of flavours and influences. Some must-try dishes include Piri Piri Chicken, Bacalhau à Brás (a mix of fried potatoes, codfish, and parsley with eggs), Cataplana de mariscos (a seafood medley with herbs, tomatoes, and white wine), Enchidos (smoked sausages with various fillings), grilled sardines, and the famous Pastéis de nata (Portuguese custard tarts). Exploring the culinary scene is not just a treat for your taste buds but also an essential part of your Lagos adventure.
We have a great selection of villas in and around Lagos, Portugal. Get in touch today and let us help create your dream villa holiday. 
Follow us on Instagram and Facebook for the latest holiday tips, villa offers, destination guides, and more. 
Discover more about Lagos in our latest blogs:  
Disclaimer: We are not affiliated with any of these businesses. This information is gathered from client and staff experiences and feedback and we are happy to share as a helpful guide. We do not vouch for or recommend any service or establishment.