Best Things to Do in Quinta do Lago
July 3, 2023
Quinta do Lago is a prestigious resort town located in the sun-drenched Algarve on the southern coast of Portugal. With pristine beaches that beckon with their golden sands, to world-renowned golf courses that promise unforgettable rounds, it's no wonder that this area is a popular holiday destination for travellers from all over the world. If you're planning a trip, here are some of the best things to do in Quinta do Lago.
Visit the Beaches
One of the main attractions of Quinta do Lago is its beautiful beach offerings.
The Praia da Quinta do Lago is a long stretch of golden sand boasting stunning views across the Atlantic Ocean. It stretches for almost three kilometres along a biodiverse lagoon area, the Ria Formosa Natural Park. Reached via a long boardwalk, the beach is perfect for sunbathing, swimming, and playing beach games. Families can enjoy the wide range of water sports on offer as well as visit a well-known fish restaurant at the beach entrance that attracts many gourmet visitors.
Seeking solace in tranquil shores? Discover the secluded beauty of Praia do Ancão, known for its calm waters and peaceful surroundings. Situated between Quinta do Lago and Vale do Lobo, it also has a few beach bars and restaurants where you can enjoy a meal or a refreshing drink.
Both beaches have been awarded the EU Blue Flag based on water quality safety and environmental management. There are sun beds and shades available to rent, restaurants nearby and lifeguards present at both beaches during the summer months. 
Play Golf
Playing golf in Quinta do Lago is an unparalleled experience, as evidenced by its consistent placement among Europe's top 25 courses. Home to some of the best golf courses in the world, with a remarkable selection of over 30 exceptional courses, Quinta do Lago has not only hosted the Portuguese Open Championship eight times but has also welcomed numerous prestigious national and international tournaments. This reputation has made it a coveted destination for golf enthusiasts from around the globe.
The resort has three championship courses, each of which offers a unique golfing experience. The South Course is known for its challenging layout, while the North Course offers stunning views of the surrounding countryside. In 2014, the North Course underwent a complete renovation, resulting in one of the most innovative and captivating courses in the Algarve. On the other hand, the South Course enjoys international acclaim, regularly being featured in Golf World Magazine's 'Top 100 Courses in Europe'. It offers a range of challenges suited for golfers of all skill levels. Additionally, the Laranjal Course stands out as a former orange grove transformed into a captivating par 72 championship course, where players can savour breathtaking views throughout their game. There is also a junior club, mini course, driving range and performance centre so whether you're a seasoned pro or a beginner, the golf courses at Quinta do Lago are a must-visit for any golf enthusiast. 
San Lorenzo Golf Course
Explore Ria Formosa Natural Park
Right at the edge of Quinta Do Lago is the beautiful Ria Formosa Natural Park, a coastal lagoon which has recently been included in the list of 7 Natural Wonders of Portugal. Ria Formosa Natural Park is a protected group of islands that is home to a wide variety of wildlife, including birds, fish, and other marine life. There are over 300 bird species found here throughout the year, including flamingos.
The park, which is a 60km stretch of lagoons and islands, is located just a few miles from Quinta do Lago and is a popular destination for nature lovers. Visitors can take a guided tour on foot or by bike, go bird watching, kayak through the peaceful waterways, or simply take a stroll along one of the many walking trails. Guided catamaran boat excursions are also available, as well as a hop-on-hop-off water taxi which allows you to head to the island of your choice. The reserve is a great place to escape the hustle and bustle of daily life and enjoy some peace and quiet in nature. 
Take a Boat Tour
Another great way to explore Ria Formosa Natural Park as well as the Algarve's spectacular coastline is by taking a boat tour. There are several companies in the area that offer guided boat tours, giving visitors a chance to see the local wildlife up close, including dolphins at certain times of the year. Many tours also include stops at secluded beaches and other points of interest along the coast. 
Visit the Market
The century old Loulé Market is a must-visit destination for anyone travelling to Quinta do Lago. The market is held every Saturday inside the main market building and, outside, the mediaeval alleyways come to life with a vibrant array of local produce. It's an authentic, cultural experience and the perfect place to pick up delicious fruits, organic vegetables, freshly baked breads, cakes, honey, meat & fish. Visitors can also browse a wide selection of handcrafted goods, including ceramics, leather-goods, jewellery and gifts. Aside from the market stalls, Loulé has some lovely restaurants, cafes, bars, galleries and boutique shops to explore as well as a castle!
 Go Shopping
For avid shoppers, indulging in a shopping spree is a must-do activity in Quinta do Lago. One of the key attractions is the 'Q' shopping centre, which offers a plethora of designer and local shops that are sure to ignite excitement. Whether you have a penchant for luxury brands or seek a unique boutique experience, Quinta do Lago provides a diverse range of options for a rewarding retail therapy session. After you've satisfied your shopping cravings, the on-site food court offers a wide selection of dining options, including restaurants and cafes, allowing you to refuel and relax. 
In addition to the 'Q' shopping centre, there are other shopping destinations in the vicinity.  Algarve Shopping, Forum Algarve, and a shopping centre in Portimao, ensure that shopaholics have ample opportunities to explore and indulge. Shopping is undeniably one of the most popular activities in Quinta do Lago, offering a delightful experience even if you thought you had seen it all before you arrived.
Go Horseback Riding
If you're looking for a unique way to explore the area, consider a horseback ride. The team at The Pinetrees Riding Centre offer individual or group lessons for riders of all abilities, aged 4 to 70 with an upper weight acceptance of 90 kgs. They offer 10-hour holiday cards available for those wanting to ride more frequently during their stay. They provide all the equipment required and insurance is also included in their prices. The centre is situated in the beautiful Ria Formosa Nature Reserve, making it an idyllic setting for rides along sandy trails.
Depending on your experience, gentle nature walks, forest treks and, for the more competent, pinewood hacks can also be arranged. Owner, Beverley, suggests that in order to make the most of the ride outs available, rusty riders should take a refresher lesson at the start of their holiday. However, even if you would just like to experience a gentle half hour forest walk on a leading rein we suggest contacting our friends at The Pine Trees Riding Centre with any questions you may have and they'll be happy to make suggestions and book you in.
The Pine Trees Riding Centre
Play Tennis
Playing tennis in Quinta do Lago is a fantastic option for sports enthusiasts seeking an active and enjoyable experience. Located near the Vilar Do Golfe roundabout, The Campus offers a range of tennis courts that are accessible to the public. Whether you are a beginner or a seasoned player, the added advantage is the availability of experienced coaches who can assist in enhancing your skills. You have the opportunity to not only improve your game but also relish the joy of playing tennis in a beautiful setting. The Campus caters to varying lengths of stay, offering tennis packages that include hourly court hire as well as weekly memberships for avid tennis enthusiasts. So whether you're seeking a fun-filled day on the court or a dedicated tennis experience, Quinta do Lago provides the ideal environment for tennis enthusiasts of all levels.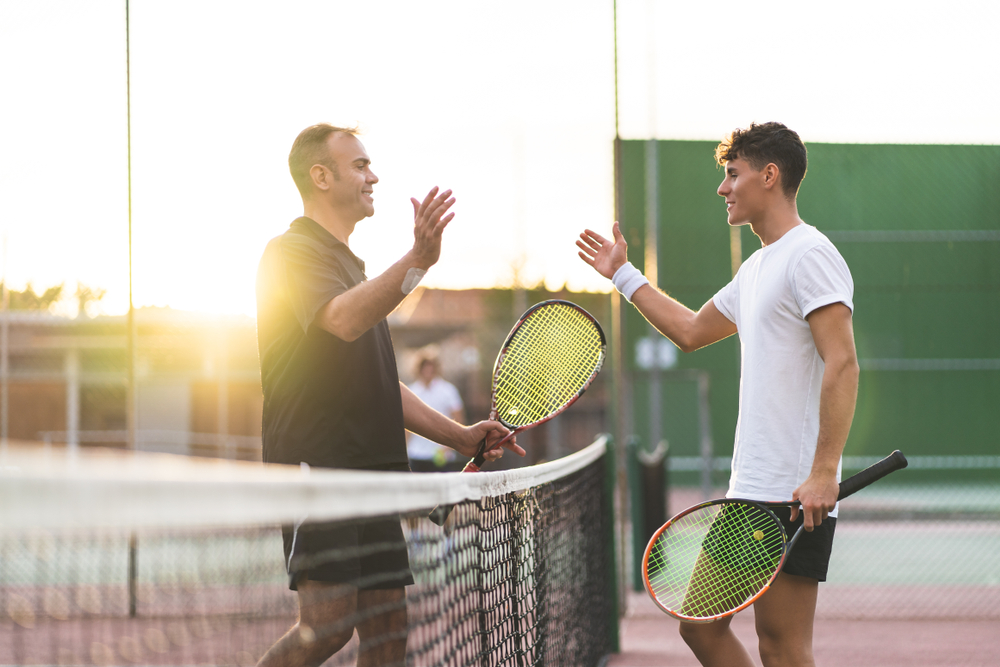 Rent a Bike
For cycling enthusiasts, Quinta do Lago offers an ideal environment to hop on a bike and enjoy the surroundings. Whether you prefer leisurely rides or more challenging routes, there are plenty of options which cater to different skill levels. Cycling through Quinta do Lago allows you to appreciate the scenic landscapes, breathe in the fresh air, and discover the region's charming corners. 
Based in Vilar do Golf Resort, Bikers serve the Quinta do Lago area and have specialised in bicycle rental since 2010. They offer a friendly and personalised experience including rental (delivery and pick up from your villa available), lessons and tours. Guided group rides are a fantastic way to experience the local landscape with routes designed for all ages and levels. Enjoy a morning or afternoon discovering the ecosystem of the Ria Formosa lagoon or coastline along safe routes with little traffic. You can also combine cycling with a variety of other activities, such as bird watching, paddling, and kayaking. 
Water sports at Quinta do Lago Lake
If water sports are your thing, a visit to Quinta do Lago Lake is a must. This dedicated water sports centre, Artur's Watersports Academy, means that visitors don't need to go far to enjoy a variety of sports. The lake avoids motorised sports, such as speed-boating or jet-skiing. Instead it provides tuition, lessons and facilities for activities which rely on either the water or the wind for power. Windsurfing, sailing, scuba diving, canoeing, kayaking and dinghy sailing are all popular pursuits here. All instructors are fully qualified and equipment for all ages and abilities is provided on-site. Children's lessons are available from the age of 6. There's even a floating assault course called 'Aquapark', which is sure to keep kids entertained for hours!
Take a Day Trip to Faro
The city of Faro is just a short drive from Quinta do Lago and is well worth a visit. The city, the capital of the Algarve, is known for its beautiful architecture, historic landmarks, and vibrant cultural scene. Visitors can explore the old town and Faro Cathedral, or simply stroll along the marina and enjoy the water vistas. 
Try the Local Cuisine
Prepare your taste buds for a culinary journey through the flavours of Quinta do Lago. Here, Portuguese cuisine takes centre stage, tantalising the senses with its vibrant and diverse offerings. Indulge in the abundance of fresh seafood, a hallmark of the region. From succulent grilled fish to flavourful shellfish dishes, Quinta do Lago presents a delectable array of ocean treasures that will transport you to gastronomic bliss. 
Tuck into traditional Portuguese stews, where tender meats, aromatic spices, and locally sourced vegetables come together to create soul-warming delicacies. Whether it's the robust flavours of Cozido à Portuguesa or the comforting embrace of Caldo Verde, each spoonful is a testament to the region's rich culinary heritage. 
No exploration of Quinta do Lago would be complete without sampling the delightful pastries that grace the local bakeries. From creamy custard tarts known as Pastéis de Nata to the irresistible sweet treats like Bolo de Bolacha, each bite is a symphony of flavours and textures that will leave you craving more.
With some of the best restaurants in the Algarve, Quinta do Lago is a great choice for foodies everywhere.
We have a variety of villas in the Quinta do Lago area to suit all budgets.  Just let us know your requirements and we will help you find your home from home.