Best Vilamoura Beaches
July 24, 2023
The beautiful Vilamoura province in the Algarve region of Portugal boasts a mesmerising coastline with an abundance of golden sand beaches and turquoise waters. Choosing the perfect beach can be overwhelming, as each one offers a unique experience. 
Whether you seek a lively atmosphere with surfing, jet skiing, and volleyball or prefer a serene and peaceful escape, we've got you covered. Discover the best beaches in Vilamoura, each with its own charm and attractions, catering to all preferences and ages.
Let's dive into the best beaches in Vilamoura.
Praia da Rocha Baixinha
If seclusion and tranquillity are what you're after, you can't skip a visit to Praia da Rocha Baixinha. Tucked away amidst a peaceful natural setting, this hidden gem is perfect for those looking to escape the crowds and enjoy a more intimate beach experience.
The pristine sands, framed by dunes and rugged cliffs, provide a serene backdrop for sunbathing and long walks along the shore. 
Praia de Vilamoura
For those seeking a livelier atmosphere, Praia de Vilamoura is the place to be. Located adjacent to the marina, this beach is not only easily accessible but also offers an array of water sports activities to satisfy adventure enthusiasts. From jet skiing and parasailing to paddle-boarding and kayaking, there's no shortage of thrilling experiences to enjoy. 
After an exhilarating day on the water, unwind at one of the beachfront bars, such as Maresia Beach Bar, or indulge in a delicious meal at the nearby restaurants, where you can savour fresh seafood while gazing at ocean views.
Praia da Falesia
Praia da Falésia, extending along the coastline, is undoubtedly one of the most iconic and picturesque beaches in Vilamoura. In fact, it's been voted as one of the best beaches in the world several times over the years.  
Praia da Falésia, meaning "beach of cliffs", is known for its stunning red cliffs and golden sands stretching as far as the eye can see. The sea is also crystal clear, setting a truly breathtaking backdrop for a day of relaxation. 
Take a leisurely stroll along the shoreline, dip your toes into the refreshing Atlantic waters, or simply bask in the sun while admiring the dramatic cliffs that frame this postcard-perfect beach.
Praia de Quarteira
Located near Vilamoura, Praia de Quarteira is a popular beach destination offering a vibrant and lively atmosphere. Stretching along the Quarteira promenade, this beach features golden sands and clear waters. It's a favourite spot for both locals and tourists, offering various beach bars, restaurants, and shops along the waterfront. With its lively ambiance and excellent amenities, Praia de Quarteira is a great choice for those looking for a bustling beach experience.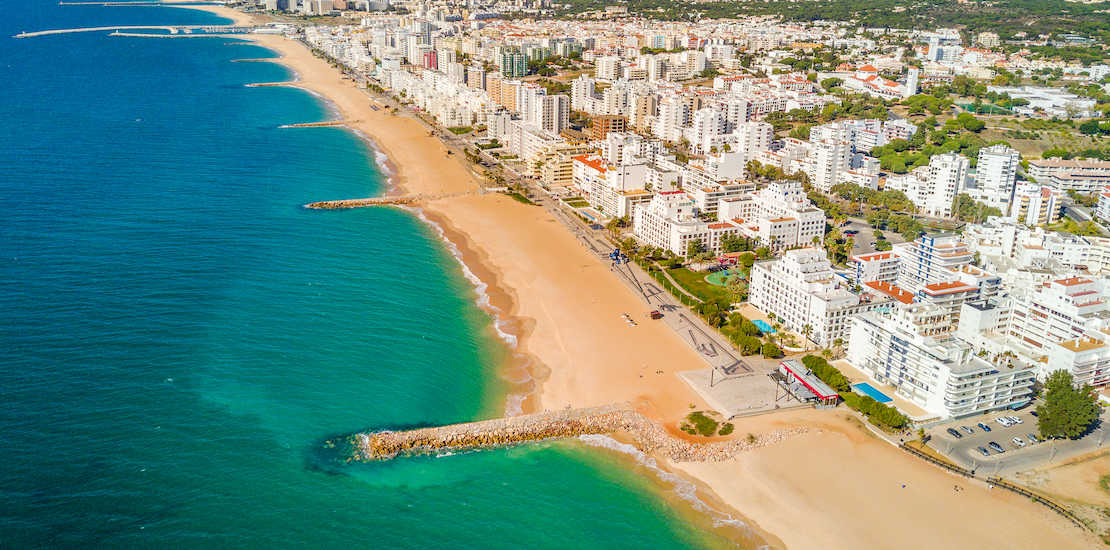 Praia do Trafal
Praia do Trafal is a secluded beach nestled between Vilamoura and Quarteira. Accessible via a charming wooden footbridge, this hidden cove offers a sense of tranquillity and privacy. 
Surrounded by striking rock formations and crystal-clear waters, Praia do Trafal provides a serene sanctuary for nature lovers and avid snorkelers. Explore the underwater world teeming with colourful marine life or simply find your own little corner of paradise to relax and unwind.
Praia de Loulé Velho
A bit further away from Vilamoura, Praia de Loulé Velho is a hidden gem nestled within the Ria Formosa Nature Park. This secluded beach offers a pristine and unspoiled natural environment, making it perfect for nature lovers and those seeking solitude. The beach is accessible via a short trail through the pine forests, adding to its sense of seclusion. Praia de Loulé Velho is a fantastic choice for those who want to escape the crowds and enjoy the beauty of nature.
Praia de Vale do Lobo
Situated near Vilamoura, Praia de Vale do Lobo is a beautiful beach located within the Vale do Lobo resort area. This expansive beach offers golden sands and clear waters, making it a popular choice for sunbathers and beachgoers. The beach is well-maintained and equipped with excellent facilities, including beach bars, restaurants, and water sports rentals. Praia de Vale do Lobo provides a relaxed and upscale beach experience, perfect for families, couples, and those seeking a touch of luxury.
Praia do Garrão
Praia do Garrão is another stunning beach located near Vilamoura, between Vale do Lobo and Quinta do Lago. This beach is known for its vast stretches of golden sands and pristine natural surroundings. With its spacious shoreline, visitors have plenty of space to spread out and enjoy the sun. 
Praia do Garrão offers a tranquil atmosphere and is ideal for long walks along the beach, sunbathing, and swimming in the refreshing Atlantic waters. The beach is backed by sand dunes and bordered by picturesque cliffs, adding to its scenic charm.
Here, you'll find two of the most popular beach restaurant destinations in the area, Maria's and Julia's. Both restaurants are open all day, serving lighter meals at lunchtime and more sophisticated menus by night, with the addition of a DJ or live music as the sun sets. Many years ago, Julia's restaurant was only accessible on horseback via a sandy road through the pine forest, but now this stretch is a hangout for all ages, from tourists and locals to celebrities.
The lovely Casa Katrina is located near here.
We have a variety of villas in the Vilamoura area to suit all budgets. Just let us know your requirements and we will help you find your home from home.
Discover more about Vilamoura in our latest blogs: