Best Places to Stay in the Algarve, Portugal
January 19, 2023
The Algarve is a much loved holiday destination and it is not hard to see why.  Beautiful beaches and mesmerising coastlines, stunning countryside, amazing weather, delicious food – there is so much to enjoy!  We have put together an easy to use guide to help you choose the perfect place to stay in the Algarve.
QUINTA DO LAGO
Just 20 minutes from Faro airport, Quinta do Lago is a playground for the rich and famous and a summer haven for all with its seemingly endless golden beaches. Set in the beautiful Ria Formosa Natural Park, with some of the most luxurious villas on the coast, this prestigious resort includes 3 award-winning golf courses, several outstanding restaurants and top class sports facilities. The Ria Formosa is an area of outstanding natural beauty and definitely worth exploring. Faro, the nearby regional capital of The Algarve is also well worth a visit.  Some of our most luxurious villas are located in this area, featuring rooftop pools, gyms, hot tubs, games rooms and private tennis courts.  This really is the place to stay for the ultimate holiday treat!  Check out our WOW factor collection
VALE DO LOBO & DUNAS DOURADAS
Vale do Lobo is best known for its fabulous golf courses, including the famous Ocean Course which is arguably one of the prettiest in Europe. Its tennis and leisure facilities are also second to none. For those wanting to simply relax there is a magnificent expanse of white sandy beach to enjoy. The central hub, known as The Praca, comes alive at night with its fantastic waterfront restaurants, bars and live entertainment. The neighbouring resort of Dunas Douradas is also popular with golfers and families alike. Set in 77 acres of pine forest, the estate is named after the golden sand dunes in the area. Most of the villas we feature here have their own pools but you can also enjoy the superb communal pool in the heart of the resort.
ALBUFEIRA
It's hard to describe the diverse Albufeira area in just a sentence or two. Once a fishing village, Albufeira is now probably best known for its vibrant nightlife and party scene but there is so much more to discover here. Praia d'Oura is probably considered the liveliest part of this region but, close by, the charming old town has winding, cobbled streets with artisan shops and stalls and a main square where, in the height of summer, there is often live music and entertainment. A little further east are the areas of Santa Eulália and Olhos D'Água. These resorts have beautiful sandy beaches with infamous rock formations and many of the villas we offer here are in prime positions with sea views and within walking distance of a beach, shops and all the attractions. Vale de Parra is a quieter more residential area, to the west of Albufeira where you will find Galé beach; a vast expanse of golden sand and calm waters with restaurants, water sports, jet skiing parasailing and much more. We highly recommend experiencing this sensational coastline by boat and exploring the amazing caves and beaches which cannot be reached on foot. Boat trips can be arranged at Albufeira Marina with our friends at Wish & Fish.  We have a varied selection of villas here, some within walking distance of the fabulous beaches, others set in the hills with distant sea views, affordable houses with private swimming pools to Wow Factor properties for the ultimate holiday indulgence.
CARVOEIRO
Once a sleepy fishing village, Carvoeiro has retained its chill-out holiday vibe and is now home to an abundance of restaurants and bars.  With some of the most beautiful beaches and coves along this part of the coast, the area is considered a top holiday destination in the Algarve for families and groups of friends.  We have properties close to the centre of Carvoeiro and a wide variety of properties in some of the surrounding areas, all within easy reach of numerous restaurants, golf courses, waterparks and beautiful beaches. Originally the ancient capital of The Algarve, the town of Silves is close by and well worth a visit with its cobbled streets, open-air cafes, castle, cathedral and market. The neighbouring and bustling resort of Armacao de Pera has a magnificent beach and plenty of restaurants and bars which come alive at night and are popular with international and Portuguese tourists. Finally, the charming inland village of Porches is best known for its pottery, 2 Michelin star restaurant 'Ocean' and one of the most romantic and picturesque chapels imaginable, perched on the cliffs overlooking the Atlantic Ocean.
VILAMOURA
Vilamoura is well known for its top quality golf courses, but it doesn't just attract golfers, as it is also home to one of the most vibrant marinas in the Algarve.  Impressive boats and eye-catching yachts are at its heart, surrounded by an abundance of shops, restaurants, cafes and bars.  There is a good atmosphere throughout the year and in the summer, the vibe is particularly compelling.  It is a great choice for families with a long sandy beach and a huge variety of restaurants to please even the fussiest eaters!  We have a growing selection of properties to suit every budget, some are walking distance to the marina and others are a stone's throw from the tourist train that regularly revolves around the area.  Golfers, families and groups of friends will be spoilt for choice with the wealth of activities here.
BOLIQUIEME
Boliquieme is set within the hills, inland from Vilamoura and is sometimes referred to as the 'Vilamoura Countryside'. Sitting high above the Algarve Coastline, 45 meters above the sea, many villas here boast far reaching countryside and ocean views. It retains its authentic, Portuguese village charm, set in cobbled streets with some lovely restaurants and shops selling locally produced handicrafts and food. The surrounding countryside is abundant with pine and almond trees, dotted with gleaming white villas and the occasional ancient church or windmill.  Most of the villas we feature in this area have sensational views and are the perfect choice for those wanting a peaceful retreat in the Algarve countryside.
LOULE
In the hills behind the tourist filled coastal resorts lies Loulé, a typical, bustling market town with lots of history and remnants of its Roman and Moorish past, including the old castle walls and mosque-like churches. The almond tree filled hills surrounding Loulé are sprinkled with holiday villas but this has not changed the traditional character of the town.  Here you will find authentic restaurants, market stalls and a profusion of shops in the historic centre selling cheerful hand-painted ceramic dishes, cork products and locally woven baskets. It's the perfect setting to enjoy the more rural, laid-back way of life, full of Portuguese charm.
PORTIMAO & FERRAGUDO
Traditionally a fishing port, Portimao Marina has now become home to super yachts, a variety of restaurants and quayside bars and is a fabulous place to sit and people watch.  There are some sensational beaches nearby and, as Portimao is the largest city in the western Algarve, this is the place to visit for excellent shopping as well as the historic buildings and specialist seafood restaurants. Praia da Rocha is close by with stunning views of its sweeping bay and some lovely authentic beach bars and restaurants. Across the Arade river bridge to the east is the charming village of Ferragudo which retains its long established appeal with whitewashed houses, narrow streets covered with flowers, and a harbour filled with fishing boats.  Why not book a table at one of our favourite eateries, Restaurante Sueste, where you can enjoy octopus and sardines straight from boat to table via their charcoal grills.
LAGOS
The historic walled city of Lagos was once the capital of the western Algarve and is best known for its relaxing beaches, epic cliffs, impressive historical buildings and colourful nightlife. Lagos Old Town is the historical centre of the city and has a cosmopolitan atmosphere. Wander along the cobbled pedestrianised streets where you'll see numerous buildings decorated with colourful, Portuguese tiles dating back centuries. This is a vibrant place with a huge variety of shops, restaurants and bars with Lagos Marina just a short walk away. Meia Praia is the largest beach in the area and very family friendly as the waters are calm and protected with numerous water sports on offer. Batata beach is close to the 'party district' appealing to the young and young at heart. The golden sands of Meia Praia beach stretch for 4kms around the bay of Lagos and the small, sandy coves and grottoes provide secluded and sheltered sunbathing and the perfect backdrop for holiday photo opportunities.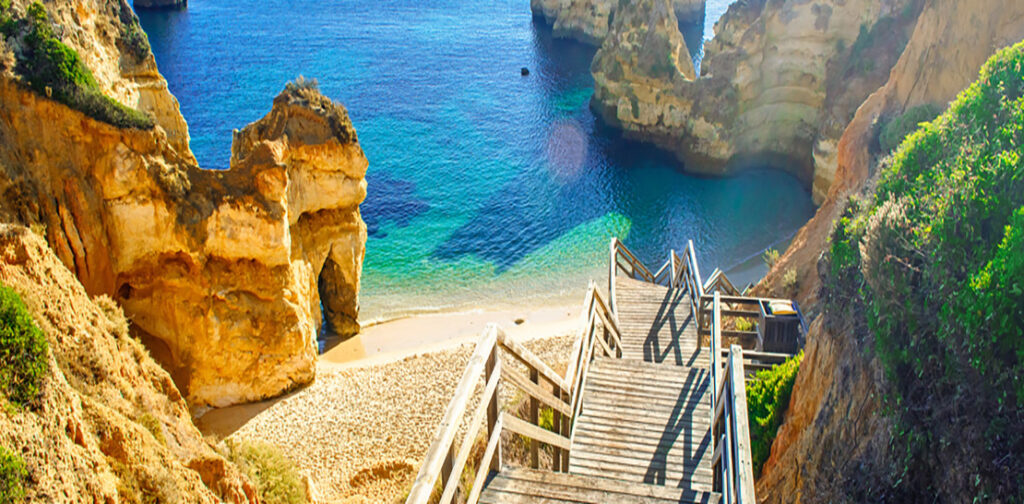 PRAIA DA LUZ AND SALEMA
Despite being one of the smaller resorts to the west, Praia da Luz has a plethora of restaurants, cafes and shops along its pretty promenade and cobbled streets. Its delightful wide, sweeping bay and gentle sloping beach is probably one of the most family friendly beaches in the Algarve due to its sheltered, calm and shallow waters. There is a relaxed, holiday vibe in Luz and, for the more adventurous, there are a range of water sports available to book like scuba diving, water skiing and windsurfing.  There are some beautiful golf courses nearby too, including Penina, Palmares, Santo Antonio (formally Parque da Floresta) and Boa Vista. The busier city of Lagos is a short 15 minute drive away making this a great location for those wanting to stay in a sleepy resort with a busy city on its doorstep!  Salema is a bit further along the coast with a similarly relaxed vibe.  Still very much a working fishing village, you can enjoy fish, fresh straight from the boats here and the beach has been less affected by tourism than some of the other beaches in the Algarve making this a perfect place to retreat and rejuvenate.
Discover our range of villas in the Algarve here